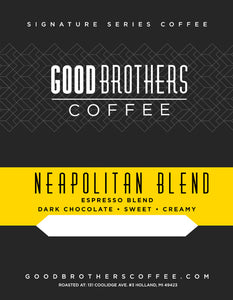 Roasted dark for espresso but also great as drip.

CUP PROFILE:

This is a dark roasted Neapolitan blend designed for espresso but also amazing for dark drip lovers.
We set out to create a roast Ideal for milk based drinks that is also great straight up without the over roasted notes.  
Our Neapolitan Blend has an intense pleasant bittersweetness that cuts through milk amazingly well. The dark chocolate sweetness turns creamy with lots of body and crema. This blend is not over roasted like many others.

80% Arabica / 20% Robusta and 100% better than the rest. 

~

Roast Level:
Dark -
We drop this at the first signs of second crack. Which means there should be very little oils on this bean.

Subscriptions have a 10% discount and can change, swap or cancel at any time. 

Feel free to leave any comments or questions in the "Notes" section when checking out and we will make sure to read them.



Roasted Fresh Daily. Usually ships same day with 1-5 day shipping. We roast on a fluid bed air roaster. This means less acidity for people with sensitive stomachs. Cleaner, no hydrocarbons or charring. Questions are welcomed! We love coffee and hope you love ours as well.