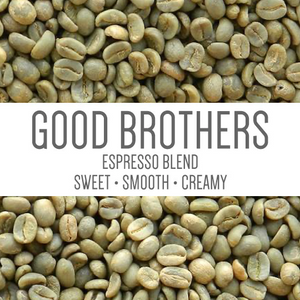 ------- WARNING! You are looking at Unroasted Green Raw Beans ------

Great for Espresso also good on drip.
CUP PROFILE:
Creamy Chocolate, Brown Sugar, Hazelnut, Raisin, Red Fruit.
About:
This one is a treat and has special smooth sweetness to it. It's 3 parts South American, 1 part African, 1 part Indonesian, 1 part Central American and 100% delicious. 

~
Roast Level Tips:
Medium. We like to drop this at around 432 about 15 sec after first crack ends. And 15 degrees before second crack. 

Subscriptions:
With a "Subscription" your first order will be charged immediately and fulfilled. 

Feel free to leave any comments or questions in the "Notes" section when checking out and we will make sure to read them.