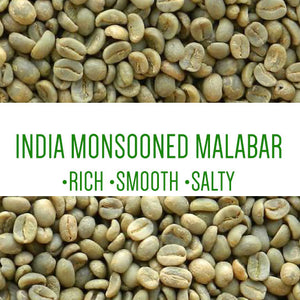 ------- WARNING! You are looking at Unroasted Green Raw Beans ------


Great on Drip and So much crema for espresso!
CUP PROFILE:
Rich, creamy, salty with heavy body. 
ABOUT THIS COFFEE
Indian Monsooned Malabar is a stand out bean. Annual monsoon winds cause the beans to expand in size and acquire their unique, flavor. Featuring overtones of baker's chocolate and a distinct earthiness and salt like notes. 

This one is a Creama KING! It also is great for blends. 
We prefer this to drop right before 2nd crack. It should be a nice dark golden brown color.
Roast Level:
Medium - Dark