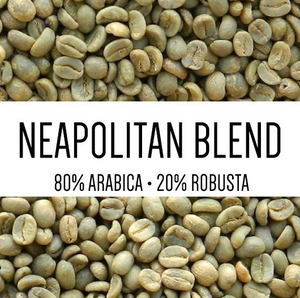 ------- WARNING! You are looking at Unroasted Green Raw Beans ------
This is a Neapolitan focused blend designed for espresso but feedback shows this is amazing for dark drip lovers. We set out to create a bean Ideal for milk based drinks that is also great straight up along with being easy to roast. 
Our Neapolitan Blend has an intense pleasant bittersweetness that cuts through milk amazingly well. The dark chocolate sweetness turns creamy with a lot of body.

80% Arabica / 20% Robusta

~

Recommended Roast Level:
Dark -
Roast Level Tips:
We drop this at the first signs of ANY second crack. Which means there should be very little oils on this bean.