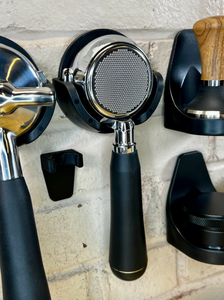 PortaKeeper's PortaKeeper
Keep your portafilter, or spare portafilters out of the way, clean, and accessible using the PortaKeeper.
The Portakeeper is a must-have accessory for any espresso machine owner. Designed to hold and organize your portafilters when they aren't in use, this innovative wall rack keeps your portafilters safe and within easy reach. Made from high-quality, durable materials, the Portakeeper is built to last. Its sturdy construction ensures that your portafilters stay securely in place. Plus, its sleek and compact design fits in it at home or in a commercial setting. In addition to organizing your portafilters, the Portakeeper also helps to keep your workstation clean and clutter-free. Its stylish design fits seamlessly into any espresso machine setup, making it a practical and attractive addition to your coffee gear. So if you're tired of misplacing your portafilters or having them take up valuable counter space, the Portakeeper is the perfect solution. Order yours today and start enjoying a more efficient and organized espresso-making experience.
PortaKeeper is proud to announce that we have begun injection molding the new and improved PortaKeeper.  If you purchase the Type 1 PortaKeeper in black, it will be the new high quality PortaKeeper.  All other sizes and colors will remain the traditional manufacturing method for the time being.
The PortaKeeper attaches to a wall using 3M Command Strips (included). These strips will allow clean removal in the future.
Note: Portafilter not included, listing includes an ABS portafilter wall rack. Follow all recommended instructions from the Command Strip adhesive manufacturer or watch our installation video.
Type 1 58mm Straight Tab and Type 4 54mm Breville 3 Tab available.
(Type 1)
58mm Straight Tab: NOTE Black Type 1 will be injection molded plastic! 
Rocket 58mm straight tab
ECM 58mm straight tab
Quickmill 58mm straight tab
Decent 58mm straight tab
Virtuoso 58mm straight tab
Wega 58mm straight tab
Rancilio 58mm straight tab
La Marzocco 58mm straight tab
Giotto 58mm straight tab
Expobar (not all styles confirmed fit) 58mm straight tab
Ascaso 58mm straight tab
Bezzera 58mm straight tab (some models come with diagonal tabs and require style 2)
Lelit 58mm straight tab
Breville Dual Boiler 58mm straight 2 tab (note the majority of Breville machines are 54mm 3 tab, see Style 4)
Faema 58mm
Vibiemme 58mm
Slayer 58mm
(Type 4)
54mm Breville 3 Tab Black
Breville 54mm
Wega 54mm
Olympia Maximatic 54mm