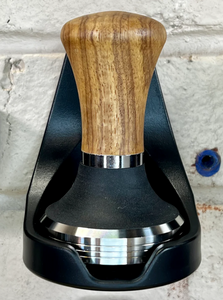 PortaKeeper's TamperKeeper
The TamperKeeper is the perfect addition to the PortaKeeper TM
Store your tamper safe and out of the way using a TamperKeeper, a wall mounted tamper tray.
PortaKeeper is proud to announce that we have begun injection molding the new and improved TamperKeeper and DisToolKeeper. 
The tray fits both 58mm as well as 53mm tampers. Smaller tampers will also fit but might be loose.  It is designed to fit oversized espresso tampers up to 59.5mm. Tampers such as the self leveling and distribution tools do not fit in the TamperKeeper. Check out the DisToolKeeper if have a self leveling tamper or distribution tool. Feel free to contact if you have questions about fit.
Some but not all distribution tools might fit in the TamperKeeper.  Ask about the DistributionKeeper.

The TamperKeeper attaches to the wall via 3M Command Strips (included)

Attention: Tamper NOT included!