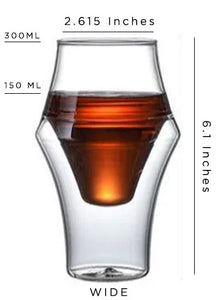 Size: (1 cup) 

H6.1 inches  x W2.615 in / 130mL
Our Thoughts

This is for (1) 130ML Cup. Glass double wall design is excellent for heat retention.




Tapered mouth accentuates aroma and perceived sweetness.

Best model for nutty, chocolatey coffees.

We love how this feels in the hand.

Coffee appears to float!
Filled to the top, the cup holds 250mL.
Filled to where the double wall ends, the cup holds 130mL.
About this item
The double walls insulate and maintain the hotness or coldness of the drink.

Double wall discourage condensation so your table will not get wet.

Heat resistant glass, microwave and dishwasher safe

Diameter 2.615 x 6.1 inches. Weight 190 grams.